Safer Congregations Workshop
A look at how we can make our churches safer, preventing mishaps and preparing for emergencies. Preparing for medical events, intruders & disruptive person, and weather events, all towards creating a safer environment for our congregations.
The workshop will be after the NTUUC board meeting. Participates do not need to attend the board meeting. Please join us for lunch at 11:30, or at 12:30 for the beginning of the workshop.
October 7, 2023
Horizon UU Church in Carrollton
1641 W. Hebron Parkway
Carrollton, Texas 75010
(972) 492-4940
10.00 NTUUC board meeting
11.30 lunch *
12.30 Overview of Safer Congregations
1:00 Breakout Sessions
Attendees will be divided into one of two groups to attend the sessions. The sessions will run twice, so all participants will have the opportunity to attend both sessions. Each session will last for 60 to 75 minutes.
Session A – led by Marte Keller
Medical Emergencies
Intruders & Disruptive Persons
Session B – led by Dennis Strouble
Weather/Fire/Natural Disasters/Accidents
Tour of Horizon's Preparedness
3.30 wrap-up
Share this event:
You can download a PDF of the event flyer here to share with your congregations.
* lunch will be a buffet from Snappy Salads, with a Vegan GF hearty salad as an option. There will be three wrap options, and we'll have chicken and almonds alongside the salad.

Dennis Strouble was raised in a Methodist Church in rural North Central Pennsylvania. Dennis became a UU over 40 years ago and has served in various positions over the years including as church president, RE teacher, part of Horizon's safety task force, and as the current president of NTUUC.
Dennis is the Interim Associate Dean of the Purdue University Global School of Business and Information Technology. He cofounded an INC. 500 technology company and practiced law in West Texas for 5 years prior to becoming a university professor. He was a LTC in the US Army Reserves, worked with FEMA while assigned to the 6th Army Headquarters, and spent several years at the Pentagon.

He holds an Extra Class Amateur radio license, a private pilot's license, is a licensed attorney, and has a PhD in Management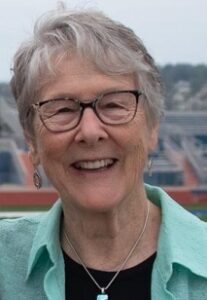 Marte Keller RN, MPH is the lead on Horizon UUC's Safety & Preparedness Task Force and the coordinator for Horizon's Greeters and Ushers.
She has a background in maternal/child and community health nursing. Following 9/11 she spent several years as the education and training program manager for the Office of Emergency Preparedness & Response with the Arizona Department of Health Services.
An unexpected and amazing experience after retiring was helping with and working at the Dallas Fair Park mass vaccination clinic in 2021.